The Champlain Community came together to celebrate the release of Professor Liming's new book, "Hanging Out"
On Tuesday the 24th of January, the Library, Phoenix Books, and the Champlain community came together to celebrate the release of Professor Sheila Liming's new book "Hanging Out: The Radical Power of Killing Time". Professor Liming, an associate professor within the Professional Writing program has authored two other books including "What a Library Means to a Woman" and "Office". Liming's writing is also located in venues such as The Atlantic, The Point, and The Los Angeles Review of Books (just to name a few). "Hanging Out" will be Liming's first book release that is not during the pandemic, allowing her to have a lot more outreach than what she has experienced before. The book talk hosted by the library is just one of the avenues to reach out to readers that she didn't have before.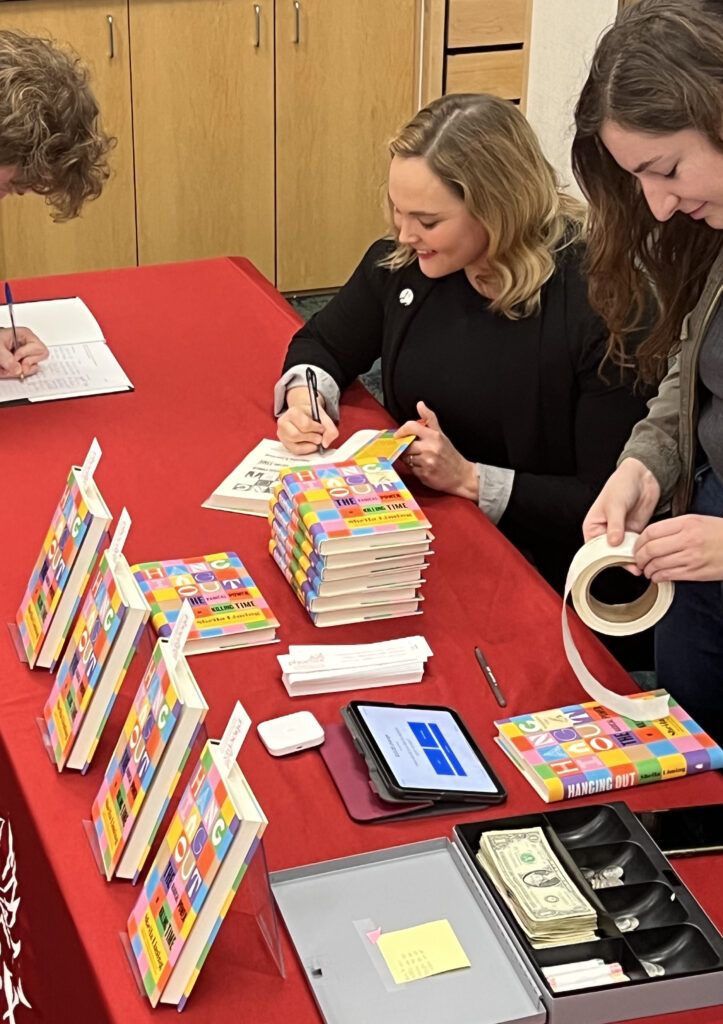 The event, which was hosted in the Champlain Room, attracted an array of people that knew Liming well: including her students, coworkers, and her notorious bagpipe band. Liming began the event by reading the first chapter of her book. For Sheila's students, the tone of the book did not come as a surprise. Sheila writes similarly to how she conducts a classroom: straightforward, insightful, and with the occasional drop of humor. During the whole first chapter the crowd of about 60 listened intently in their seats as Liming shared her experience with college parties when social media hit the stage.
After the reading, Liming sat down with her friend, Dr. Amy Schiller, who co hosted the book talk. The two of them were clearly familiar with each other. Their banter and laughter between the them created a comfortable atmosphere that encouraged a lot of questions from the crowd. The visitors of the event were eager to asking Liming a few questions. She addressed student fears of losing friendships, the different definitions of hanging out, and the variety of ways we hangout with groups over the course of about 30 minutes.
Afterwards, Liming signed books and visited with the people who had come to support her as Ruth from Phoenix Books sold copies. The clear smile on Liming's face while signing books says it all: the event was a success.
Liming's book, "Hanging Out: The Radical Power of Killing Time," is available in person at Phoenix Books and in the library on the popular books shelf. The book is also available online wherever you usually find your books for pleasure.