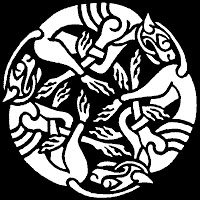 Re-connecting to Magic
Wednesday, September 22, 7-9 pm Morgan Room Speaker:
Ivan McBeth
Ivan McBeth discovered early on in life that magic is a state we were all born into, a state of wonder and grace. He is excited to give a talk about this awesome mystery that exists, at the same time, inside us all, and all around us. After the talk he will conduct a ceremony to reconnect the children of the world with the magical realms that are their birthright. You are invited to help Ivan make this happen.
Ivan is the founder and head teacher of the Green Mountain Druid Order, a school of magic based in Worcester, Vermont. He builds stone circles such as the 'Earth Clock' in Oakledge Park, Burlington, and is the author of a book called The Crystal Journey. He plays the dijereedoo, throws a mean boomerang, and wears silly hats.