A new Special Collections exhibit has been set up at Roger H. Perry Hall depicting three main ways of travel in, around, and through Burlington, Vermont.
The most popular way to travel back in Burlington's earlier days was by steamboat. It's no surprise that mode of transportation was a huge hit because of Burlington's location right on Lake Champlain. The most famous steamboat to run on the lake was the Ticonderoga, built in 1906, but sadly went out of business in 1950s due to more efficient ways to travel and has since retired to the Shelburne Museum.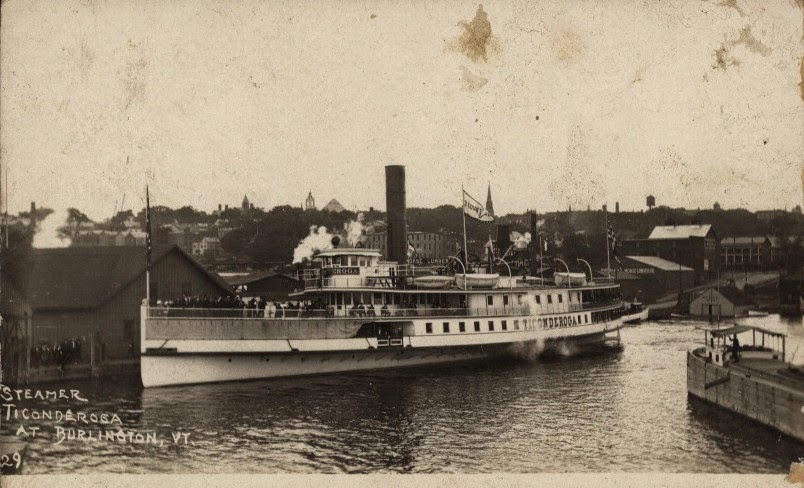 Postcard of Steamship Ticonderoga docked in Burlington by Jesse Sumner Wooley, postmarked 1908
Llewellyn Collection of Vermont History, 2010.1.663
Another popular way to go from one place to another was by train. Even though the routes were mainly used for lumber transportation from the 1850s to the early 1900s, travelers used the Union Depot's services to travel from Burlington to other places in Vermont and New York. About fifty years later the Union Depot was replaced by the Union Station, built in 1915, and continued to carry passengers until passenger train service was discontinued in 1953.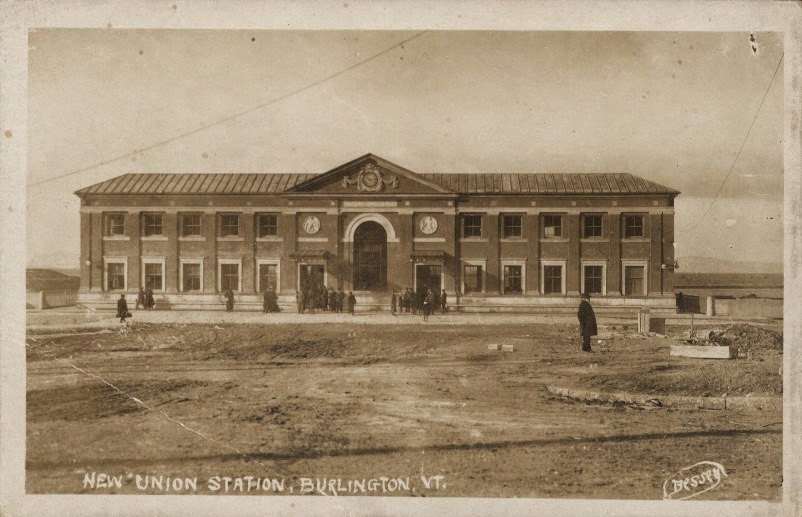 Postcard of newly-completed Union Station by Charles H. Bessey, c. 1914-1915
Llewellyn Collection of Vermont History, 2010.1.664
The most recent way of transport introduced to Burlington is flight service. The Burlington Municipal Airport opened in 1920 and began to expand a few years later when flying became more popular. In
1960, the name was changed to the Burlington International Airport by the Board of Alderman, the
airport received its first commercial flight client, and more flights started to come in.
Stop by the postcard alcove at Roger H. Perry Hall to learn more about Burlington's fascinating ways of transportation from the Llewellyn Collection of Vermont History.
-Adrian Taul, Class of 2018