Have you run through your summer reading list already? Is there a book you've been dying to read but can't get your hands on? Do you need materials for course prep? Never fear, the library has good news! We are pleased to offer contactless pickup for library materials. Follow the instructions below to request physical materials (eBooks and databases continue to be available 24/7). This is a soft roll-out, and we will make changes as needed to protect the health of our community and meet patron needs to the best of our ability.
Not sure what to search for? Check out our popular reading guide to browse through some of our latest titles.
Instructions:
Locate the item(s) you would like to check out in the library catalog.
Click on the "Request" icon at the top of the screen.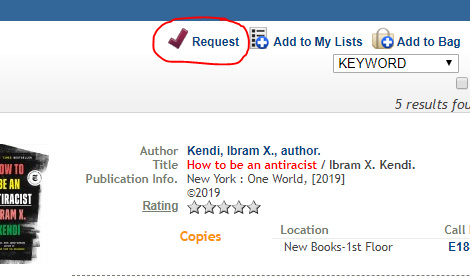 Log in to place the hold using your name and staff or student ID card number.
You will receive an automatic email verifying the hold once the item has been pulled for you.
If the item is available you will be able to pick it up that week. If it is checked out to another patron you will be notified when the item is available.
Wait for an email from library staff confirming a pickup date and time.
Visit the library during the designated pick-up time and follow the instructions posted at the front entrance. Please wear a mask for your visit.
Direct any questions about this service to swilson@champlain.edu