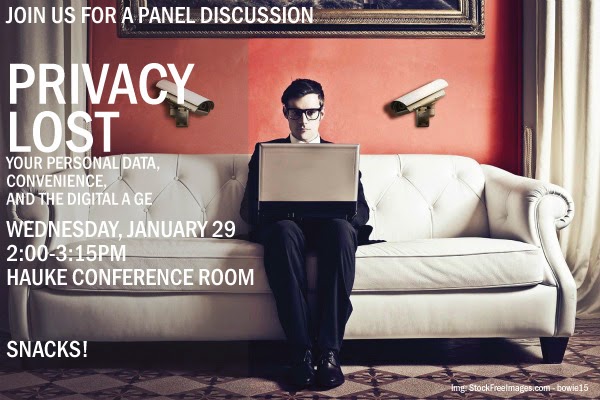 Please join us for an interactive panel discussion sponsored by the Champlain College Library where we will address the right to privacy in our daily lives and discuss what "privacy" can, and should, mean in the digital age.
Moderator: John Stroup, Assistant Professor, Division of Education and Human Studies
Panelists include:
· Patrick Sheahan – Judiciary staff member for Sen. Patrick Leahy;
· Eric Friedman – Assistant Professor, Legal Studies;
· Elaine Young – Professor, Stiller School of Business;
· Jonathan Rajewski – Assistant Professor in the Division of Information Technology & Science and Director, Leahy Center for Digital Investigation
The American public values the right to privacy in our daily lives and with regard to our personal information. However, this value can conflict with our desire for speed and efficiency as well as our desire for safety and security. The pace of technological change within the past decade has given us momentous benefits and opportunities, but it has also made surveillance and invasions of privacy extremely easy. Laws and business practices have not yet caught up with this change. Given this dilemma and the context of this technological change, how should individuals, businesses, and public policy approach issues of privacy in the digital age?
Date: Wednesday, January 29th, 2014
Time: 2:00-3:15pm
Place: Hauke Conference Room (Building 25 on campus map)
Snacks will be served!