This election season, as always, we are awash in political advertising on social media, television, billboards, yard signs, and more. A hundred years ago, the media might have been different, but the messages were similar. A new Special Collections online exhibition presents campaign memorabilia related to Vermont native Calvin Coolidge (1872-1933), who served as Vice President and then President of the United States between 1920 and 1929.
Our collections include ephemera from both presidential campaigns in which Coolidge was involved: the 1920 Harding & Coolidge campaign and the 1924 Coolidge & Dawes campaign.
These buttons, advertisements, sheet music scores, and other items feature the now-familiar red, white, and blue graphics and the Republican elephant, and feature catchy campaign slogans: "Coolidge and Dawes for the Nation's Cause!" "Keep Cool and Keep Coolidge!" and "Courage, Confidence, and Coolidge!"
This campaign memorabilia plays up Coolidge's image as as a hardworking and upstanding Vermont farmer — despite the fact that he had spent most of his adult life as a politician. Coolidge was born in rural Plymouth Notch, Vermont on the 4th of July in 1872, and it was in Plymouth that he took the oath of office assuming the Presidency of the United States in the summer of 1923, after Harding died unexpectedly in office. Coolidge was elected President in his own right in 1924, serving an additional term. He died in 1933, four years after returning to private life.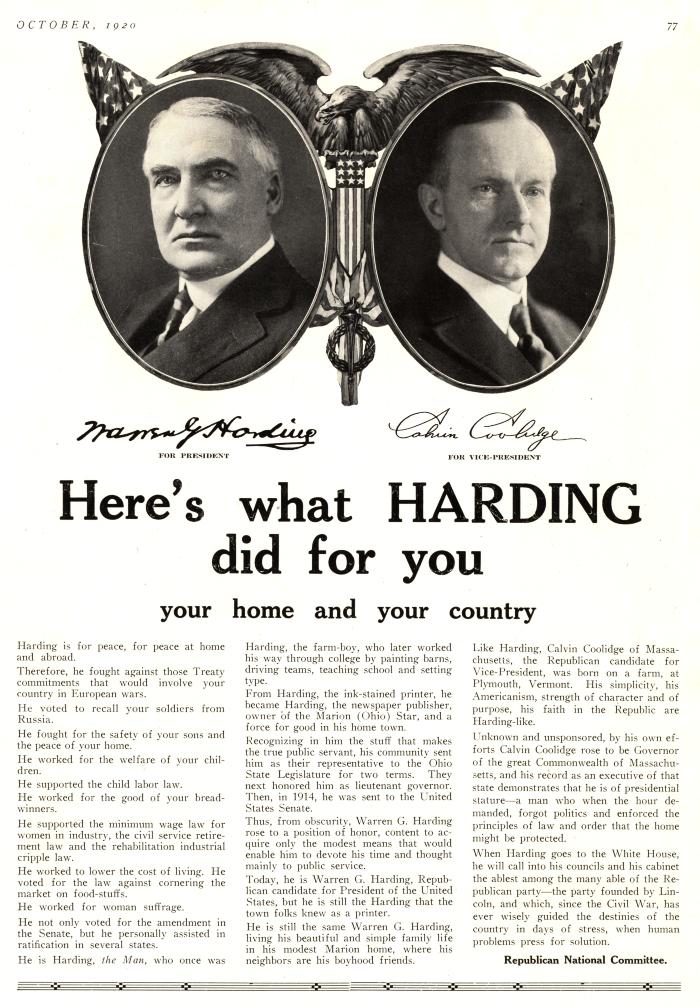 This 1920 advertisement, funded by the Republican National Committee, touted Coolidge's "simplicity, Americanism, strength of character and of purpose, [and] his faith in the Republic." Read the full text in our online catalog.