The history of Champlain's ETHAN ALLEN CENTER is featured in a new special collections exhibition in the lobby of Miller Information Commons. In 1857, a group of local businessmen founded the Ethan Allen Fire Engine Company No. 4, a volunteer firefighting and men's social organization. The Company drew its name from its first horse-drawn fire engine, dubbed the "Ethan Allen" in honor of the colonial leader of the Green Mountain Boys.
In 1889, the Company built a firehouse on Church Street, now Burlington City Arts' Firehouse Gallery. This postcard view from the early twentieth century shows the firehouse next to Burlington's old City Hall (which was replaced in 1928).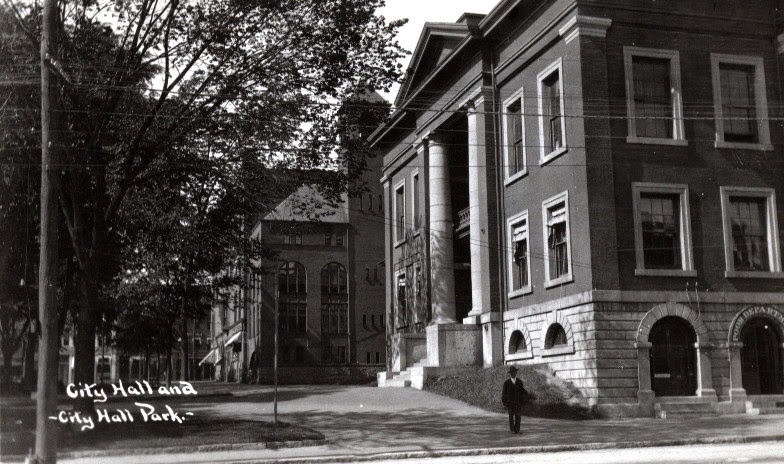 Postcard view of City Hall showing the Ethan Allen Firehouse in the background, c. 1910-1920
Llewellyn Collection of Vermont History, #2010.1.620
After a series of devastating fires in 1895, Burlington residents voted to form a paid Fire Department, rendering the city's volunteer firefighting companies, including the Ethan Allen Company, obsolete. The Ethans vacated their firehouse and reinvented themselves as the Ethan Allen Club, a purely social organization. By this time, the Club had about two hundred members, among them prominent businessmen, bankers, and politicians. In 1905, the Club purchased and renovated an elegant Greek Revival style house on College Street dating to 1834 for its new clubhouse. It contained reception and banquet rooms, a basement bowling alley, billiards room, and a caretaker's apartment.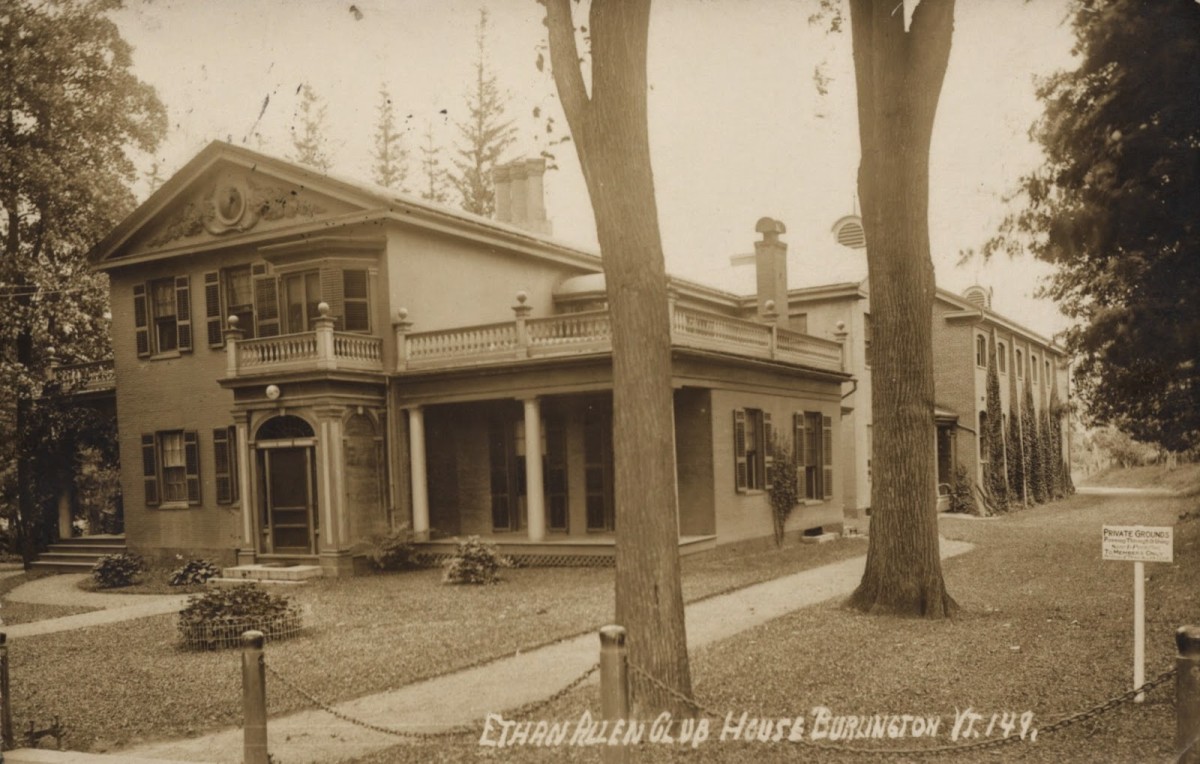 Postcard view of the Ethan Allen Club at 298 College St., Eastern Illustrating and Publishing Co., postmarked 1917
Llewellyn Collection of Vermont History, #2010.1.477
In 1971, the clubhouse was destroyed by a fire caused by faulty electrical wiring. The Club immediately rebuilt the clubhouse, constructing a modern brick building:
The rebuilt Ethan Allen Club, detail of the front cover of History of the Ethan Allen Engine Company No. 4 (1982)
Llewellyn Collection of Vermont History, #2010.1.821
After the Club disbanded in 2008, Champlain College purchased the clubhouse for eventual redevelopment as student housing. In the meantime, the building has been reimagined as the Ethan Allen Center and is currently being used for as a pop-up museum showcasing student work.