Welcome to Open Access Week! This week, the MIC will be celebrating Open Access (OA) and broadcasting the role OA plays in today's research as well as the impact it can have for students and faculty.Throughout the week, we will be exploring the many issues surrounding this new paradigm for distributing and accessing scholarly research.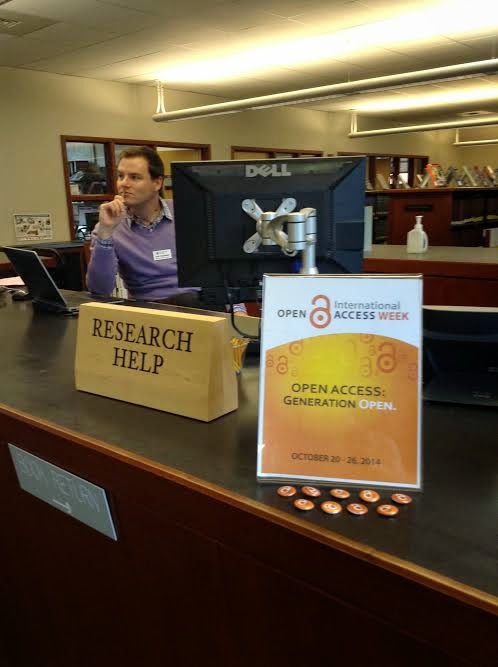 Research that is Open Access is made available for free and without (most) copyright and licensing restrictions. Peter Suber, Head of the Harvard Open Access Project and author Open Access (MIT Press, 2012), offers a clear and comprehensive overview. Open Access initiatives have been gaining a great deal of momentum in recent years, helped along by an array of stakeholders. Many major research institutions have implemented OA policies for their faculties, student groups have called for less costly access to scholarship, and a number of advocacy groups have cropped up to help further this movement's goals.
In the coming days, we are going to look in more depth at how students stand to gain from OA, how OA affects scholarly communication and faculty research, and what are the many resources currently available. We'd like to use today's post to highlight the groups fighting to make Open Access happen, the advocates who are helping to further the mission, and the many libraries, universities, and groups that are celebrating:
SPARC : SPARC is coalition of research and academic libraries whose aim is "to create a more open system of scholarly communication." Consisting of many initiatives, SPARC is one of the most important advocate organizations for Open Access. SPARC's "How Open Is It?" guide outlines the core components of Open Access.
R2RC: The Right to Research Coalition is a worldwide collection of student organization (numbering seven million members!) who believe that "no student should be denied access to the articles they need because their institution cannot afford the often high cost of access."
EFF: The Electronic Frontier Foundation champions users' rights and freedoms as technologies develop and gradually play a bigger role in daily life. Open Access is one of the many initiatives supported by the long-standing and well-respected group. This year, the EFF is using OA Week to promote the plight of Diego Gomez, a Colombian graduate student who faces jail time for posted research articles online.
OASIS: The Open Access Scholarly Information Sourcebook gives comprehensive coverage of of Open Access and "the concept, principlies, advantages, approaches, and means to achieving it." A great resource for librarians, educators, and a students.
COAPI: The Coalition of Open Access Policy Institutions is committed to helping shape Open Access policies at a number of North American universities.
Open Access Movement: The story of Open Access… told through dance!


OA Meme Competition: Get involved and generate a meme!