If you've been to the Library lately, you've probably noticed the new look of our new books display. Now all new books are located directly in front of the service desk with everything front and center, convenient for browsing. There are fewer books, but we hope to have more frequent displays to keep everyone up to date on what's coming into our print collection.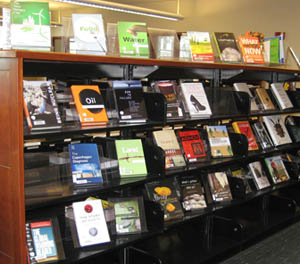 This month our display theme is the environment, just in time for Earth
Day. There is plenty of food for thought here with titles on the natural
landscape, practical ideas for living green, urban agriculture, and the
pitfalls of consuming too much "stuff". In addition, we have a smattering of
titles in business, art, and fiction to round out the display.
And as if that weren't enough novelty, we'd like to direct you to our new online source for a complete list of the titles on display http://subjectguides.champlain.edu/content.php?pid=455007. This new guide format has allowed us to enrich the basic book information with the addition of cover art. In the future, you will always be able to check this space to see titles from previous displays as well as what's newest in print at the Library. Stayed tuned as the new book lists accumulate and the guide is enriched with content!