April is Citizen Science Month, so we're encouraging you to get out there and take part! In addition to promoting a specific citizen science project studying pollinators, we hosted the virtual event Bee Happy Champlain College, on April 10th. You can watch the recording here to learn about our very own Champlain College apiary and a variety of cool projects being generated there.
What is citizen science?
Citizen science allows people with an interest in science to participate in scientific research by helping collect and analyze data. You don't need a science degree or a professional background to take part in these projects! For more information (and lots of projects), check out SciStarter. There are many citizen science projects you can participate in, but we've chosen to focus on the Pollinator Friendly Plants Program.
What is the Pollinator Friendly Plants Program?
This project is part of the Great Sunflower Project and is one of three initiatives focused on learning about and creating habitats for pollinators. The Pollinator Friendly Plants Program crowdsources data to determine what plants support pollinators by having participants watch specific plants for pollinator activity. The project will compile these data for each state and identify the important pollinator plants. By knowing what the best plants are, we will be able to build the best pollinator friendly habitats.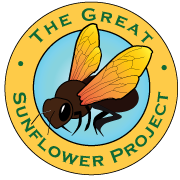 Participation
Participants conduct and report a stationary count. Full instructions for doing a stationary count are available on then Pollinator Friendly Plants website:
Start by recording the date, time and where you are.
Then, choose a plant to watch and write down what type of plant it is (either a common name or scientific name).
On that plant, decide how many flowers you are going to watch and write that down.

If it is a plant with lots of flowers in a spike or bunch, you will need to count how many flowers are in that bunch.

Once you are settled, start your timer and record the number of visits by pollinators.
If possible, write down the type of pollinator. You can be as specific as you want but please only be specific if you are certain!

If you don't see any pollinators, please report your count anyways! That is some of the most important data they get.

If a pollinator goes away and comes right back, count it twice or as many times as needed. We are interested in the number of visits rather than the actual number of pollinators.
When you are done (try to do at least 5 minutes), enter the data on the website. Start by logging in and then click on Add a Count. You will be prompted to:

Identify the type of count you did ("Stationary"), observation time, and location
Enter the number of flowers and type of plant
Enter your pollinator counts

If you saw more than one species of a particular type of pollinator, use the "I saw another pollinator" link
If you saw no pollinators, please be sure to check the box

Enter the number of minutes that you spent observing your flower
Identifying plants
If you don't recognize a plant, try using a plant identification app on your phone. Free options include:
PlantNet Plant Identification (iOS and Android)

Just take or upload a photo of the plant in the app and it will offer possible matches with photos so that you can compare yourself to verify their identification.

iNaturalist (iOS and Android)

In order to get an identification, tap "Make an observation." Take or upload a photo and then tap "What did you see?" underneath it. The app will offer possible matches. You do not have to complete and post the observation in order to get this information.
Bonus: iNaturalist can help you identify your pollinators as well as plants AND it's citizen science! If you choose to register an account (not required), your observations might be used to contribute data to researchers.