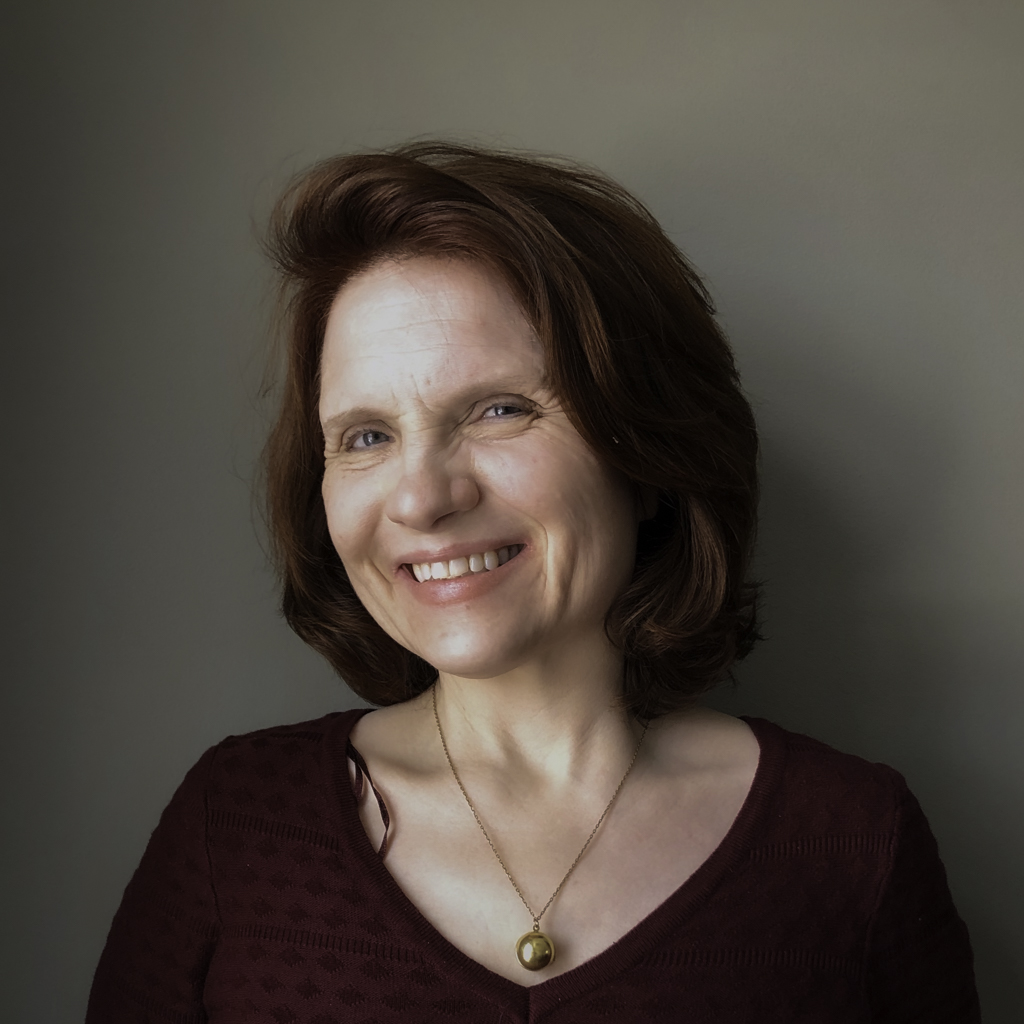 If you've ever needed research help, you might have met with Susan Adkins. She was formerly the library's Head of Reference and Instruction, but recently accepted the position as Associate Library Director from new Library Director, Emily Crist.
"I am very happy to have the support of an Associate Director, and Susan is the perfect person for this role. She is a wonderful partner to brainstorm ideas with, and she is an incredibly hard worker," comments Emily. "[She] is a natural leader… I feel very lucky to learn from her and alongside her."
Susan began her career as a teacher in the K – 12 world. When she and her family moved to the Netherlands, finding work overseas was difficult. Instead, she took a job as a high school librarian. "This really made me think, I really love working in libraries." Susan took the leap and embraced the career change, returning to school for librarianship. "There were times where I didn't know if it was worth it… but it totally paid off… When I got here, I thought, there's so much more than I thought."
When her husband's work brought her family to Burlington, she found her home at Champlain. "The academic library world can be pretty competitive. I would have been really happy to work at any of the institutions here but this was my top choice… It's very special to me so I'm very fortunate to have landed it." It was fate, really. Susan is part of what one might call a "Champlain Family." Her husband is an alumnus, her older son knew he was going to Champlain before she started working there, and even her younger one had it planned for himself since sixth grade. The college had a place for everyone.
For Susan, that place was the Miller Information Commons. "It's a space for everybody… We're here to help people grow and reach their full potential." Libraries satisfy all of Susan's core values, which she lists as inclusiveness, compassion, good humor, service to others, and lifelong learning. "It's those kinds of values that really attract me to libraries since the work that we do really makes everyone feel welcome and included."
In her new position, Susan is excited to continue improving this space. She's ready to embrace the new programs the college is building and play her part. "We have good partnerships with other divisions and departments on campus and I'm excited by some of the opportunities I see coming down to us." Susan also expresses excitement for the new student engagement librarian position, envisioning "fun things we didn't have the opportunity to do before."
Also on Susan's radar is diversity and inclusion, both of which she says are essential to Champlain College's framework. Susan is eager to build on this initiative and do whatever it takes to make it sustainable. "There's a lot of efforts being made, but we all acknowledge there's a lot of work that needs to be done. I want to help support the efforts happening on campus in a professional way."
"[Susan is] incredibly caring and has a strong social justice orientation," says Emily.
Susan sees the library as a harbor for open education resources. This would not only include open-access textbooks, but also faculty material and student-created work. This improvement would cut costs for students.
"This place is special," says Susan. "The students are great. They're a lot of fun. I like how Champlain people think and look at the world." Susan also has a lot of love for her colleagues. "Without exaggerating at all, this is my favorite group of colleagues ever. I got so lucky with the people I work with."
Susan also values the communal aspect of the MIC. "Our work touches upon everybody – students, faculty, staff, online space, nontraditional students." Susan sees her workspace as a place of learning for all, a place where learning is the common denominator for all these groups. "I think we really are a learning common".
Even Susan herself is participating in this expansion of education. "[I'm learning] something new every day. Lifelong learning is a value of library work and it's something that really attracts me to libraries." She gathers knowledge daily, both from the students she works with and her colleagues. "My main goal is to learn as much as possible about the work the people on my new team are doing and how I can support them… I'm familiar with it, I have an understanding of it, I went to school for it, but it's not something that I have in-the-trenches experience with."
Whether it is professional knowledge from coworkers, topical knowledge from research appointments, or lessons in life, Susan is ready to take all of it in as she strives to build the Champlain College Library to the best it can be. "I have a lot to learn. That's what keeps this exciting for me. I never feel bored."
Congratulations, Susan!
By Riley Earle
Riley Earle '22 is a professional writing major specializing in editing and publishing, a writing tutor at the Champlain College SMART Space, and the Marketing & Media Production Assistant at Champlain College Library.